Software Engineering (Embedded Systems)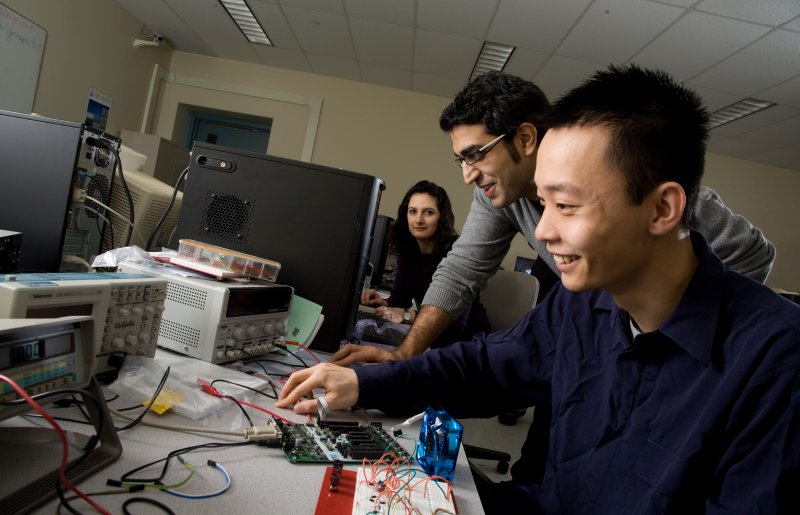 There is Software inside !!
The Software Engineering (Embedded Systems) program combines the core Software Engineering Program with the Embedded Systems courses and Electronics Courses of the Mechatronics Program.
The students taking this stream will be trained to be Software Engineers who have had exposure to: electrical power and electronics; physical interfacing of digital and analog electronics with the computer; and, software design for embedded systems and Digital Signal Processors (DSP). This will include hands-on labs that will teach students how to design, document, implement and test embedded systems.
What are Embedded Systems?
(From Wikipedia) An embedded system is a special-purpose system in which the computer is completely encapsulated by or dedicated to the device or system it controls. Unlike a general-purpose computer, such as a personal computer, an embedded system performs one or a few pre-defined tasks, usually with very specific requirements. Since the system is dedicated to specific tasks, design engineers can optimize it, reducing the size and cost of the product. Embedded systems are often mass-produced, benefiting from economies of scale.
Over 95% of software systems are actually embedded !!
Just count the devices you have at home ...
Cell Phone, i-pod, PDA
Satelite Reciever, Cable Box
Car motor controller
DVD player
The Program
Here is the calendar link that contains the courses required to complete the program: Embedded Systems