INTERACTIVE SIMULATOR BRINGS COMPUTING AND SOFTWARE EDUCATION TO LIFE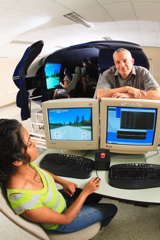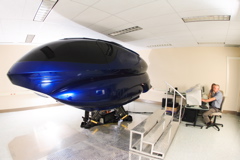 NEWS RELEASE VIRTUAL REALITY LANDS AT MCMASTER: INTERACTIVE SIMULATOR BRINGS COMPUTING AND SOFTWARE EDUCATION TO LIFE
HAMILTON, ON, September 14, 2006 - It's the shape and colour of a futuristic space ship. It holds the promise of drawing more young people into the field of information technology.
McMaster University has unveiled the first interactive motion simulator to be used for teaching undergraduate students how to develop software for simulated flight, driving, real-time game design, medical research, virtual reality systems, and a host of other applications.
The mini-van-sized simulator can accommodate up to five people and features a space-ship-pod fiberglass shell, interior projection system and a Dolby digital surround-sound system. It sits on a Moog-built, six-degrees-of- freedom (surge, sway, heave, roll, pitch, yaw), Steward platform with a 1000 Kg (2,205 pound) payload and 0.6 Gs of acceleration (equivalent to a high-performance sports car).
"It is the same simulator technology used by industry for product development and training but now applied in a classroom setting for teaching," explains Martin von Mohrenschildt, Chair of Computing and Software in the Faculty of Engineering at McMaster University. "Demand for this knowledge continues to increase. For example, automobiles and aircrafts are now first developed virtually and tested using a simulator, before a prototype is built."
The simulator is one of the more visible elements of a new approach to computing and software education that has been developed by the Faculty of Engineering at McMaster. The Faculty is responding to a general decline in university enrollment for computer science and software engineering programs at a time when demand for information technology employees is growing. Other initiatives undertaken include the launch of a degree program in software engineering and game design, as well as programs in mechatronics engineering and business informatics. Plans for a medical informatics program are also underway.
"We are working to dispel the mistaken notion some people have that there are limited career opportunities in information technology," said von Mohrenschildt. "We are developing programs and curriculum around practical applications of computer science and software engineering. Information technology is not just about writing code or building personal computers. It is about creating solutions and solving real problems faced by industry, business, medicine, entertainment, and every sector of our society."
"The simulator is an entry point for students to learn the latest in 4D- modelling techniques for virtual reality, real-time systems and control, animation tools, user interfaces, and sensory feedback," said von Mohrenschildt. "This technology is finding and driving countless other fields including audio and visual modeling, flight simulation, design prototyping, architectural visualization, animation, and digital image processing."